Axilum Robotics TMS-Robot is able to perform a wide range of tasks, from the simple holding of the TMS coil at a predefined target, to the controlled movement of the TMS coil along complex trajectories in the brain.
In spring 2014, Axilum Robotics participated with the University of Barcelona, Starlab company and the Harvard Medical School, to the first brain to brain communication, demonstrating the conscious transmission of information between human brains through the intact scalp and without intervention of motor or peripheral sensory systems [1]. Axilum Robotics TMS-Robot ensured a high repeatability for the 140 stimulations at the same occipital location, with 2 different coil orientations, during a single session as required by the protocol to generate phosphenes. This experience confirms the capability of TMS-Robot to give access to complex TMS protocols, difficult to implement manually.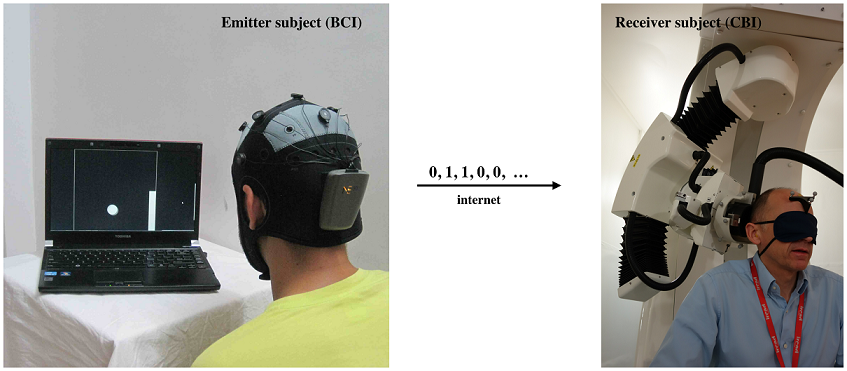 View of emitter and receiver subjects in a brain to brain communication protocol [1].
The receiver subject (right) is installed in Axilum Robotics TMS-Robot.

For more information, please check out the publication:
Grau C, Ginhoux R, Riera A, Nguyen TL, Chauvat H, et al., Conscious Brain-to-Brain Communication in Humans Using Non-Invasive Technologies, 2014, PLOS ONE 9(8): e105225.
doi:10.1371/journal.pone.0105225, [View], [Download].