Axilum Robotics TMS-Robot is the first robot specifically designed for Transcranial Magnetic Stimulation (TMS).
The idea to develop a robot assisted solution for TMS came from a need expressed in 2004 to Pr Michel de Mathelin, former head of the medical robotics research group of ICube (University of Strasbourg, France), by Dr Jack Foucher, from INSERM U666 research unit, one of the pioneers of TMS in France.
Facing the double challenge to ensure precision of stimulation and to reproduce identical procedures by patients who need sometimes up to 30 sessions, Dr Foucher was looking for a solution to automate the stimulation procedure. There was a real need with no robotic solution available.
The automated procedure offers many advantages including precision, repeatability of TMS sessions, compensation of patient's motions, ease of use, operator safety and comfort, patient safety, access to large stimulation areas and permanent contact between the patient's head and the coil monitored by force sensors.
Axilum Robotics offers with its partners different robotic solutions for TMS, adapted to various needs, from research to therapeutics.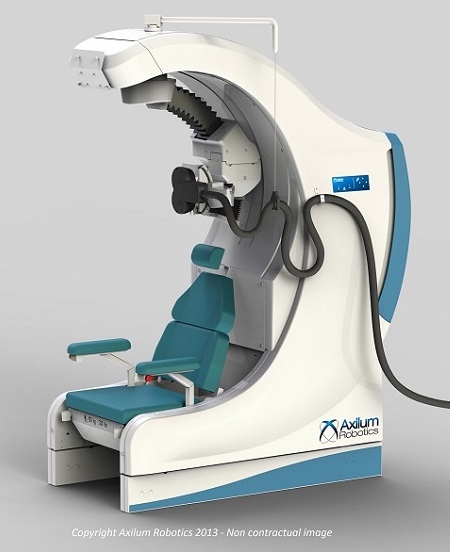 Are you a Healthcare Professional? Get more information about Axilum Robotics TMS-Robot in your dedicated area.